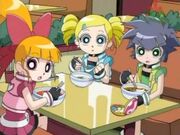 The Way of the Noodle

Episode No.

15B

Original Airdate

October 7, 2006

Previous Episode

Matches with

Next Episode
The Way of the Noodle (Japanese: 男!ラーメンモンスター! - Man of Honor! Ramen Monster!) is the second of two segments of the fifteenth episode of The Powerpuff Girls Z.
In this episode, a soup transformed by the actions of a customer takes actions which affects everybody in New Townsville. The girls must find a way to stop him, but when they are affected by the havoc caused by the soup too, will they be able to stop him?
Episode Summary
Edit