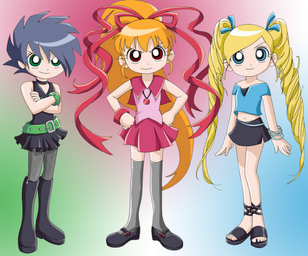 The Powerpunk Girls are the opposite versions of the Powerpuff Girls Z. They are made of salt, vinegar and everything nasty. The Powerpunk Girls did not make any appearance in the Anime.
The Powerpunk Girls were created by Oppressor Plutonium, their father figure. He named them: Berserk, Brat, and Brute. 
Berserk, like her counterpart Blossom, is a red-head and wears a red ribbon, she's also the leader of the Powerpunk Girls. She's named Berserk due to her nasty attitude, and her signature color is Dark pink/Red. Her element is everything nasty.
Brute, like her counterpart Buttercup, has raven colored hair, she's also the toughest of the of the Powerpunk Girls. She's named Brute due to her tough attitude, and her signature color is Green/Dark Green. Her element is vinegar.
Brat, like her counterpart Bubbles, has blonde hair and wears her hair in twintails. She's named Brat due to her sassy, perky personality, and her signature color is Blue/Dark Blue. Her element is salt. it is unknown how they met, but they're COMPLETE opposites from the Powerpuff Girls.
Ad blocker interference detected!
Wikia is a free-to-use site that makes money from advertising. We have a modified experience for viewers using ad blockers

Wikia is not accessible if you've made further modifications. Remove the custom ad blocker rule(s) and the page will load as expected.