The Infamous Amoeba Boys

Episode No.

7B

Original Airdate

August 12, 2006

Previous Episode

Matches with

Next Episode
The Infamous Amoeba Boys (Original Japanese - 極悪トリオ!?アメーバボーイズ - Evil Trio!? Amoeba Boys) is the second of two segments of the seventh episode of the PPGZ.
In this episode, we meet a new group who have high aspirations of being villains, so decide to try and reach for that goal. Meanwhile, Blossom worries that she will not know the answers on her Biology test, but will her next mission help her figure out the answer?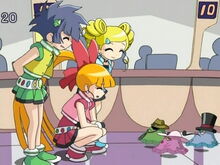 Episode Summary
Edit
Ad blocker interference detected!
Wikia is a free-to-use site that makes money from advertising. We have a modified experience for viewers using ad blockers

Wikia is not accessible if you've made further modifications. Remove the custom ad blocker rule(s) and the page will load as expected.