Sedusa

Episode No.

8

Original Airdate

August 19, 2006

Previous Episode

Matches with

None (2-part episode)

Next Episode
Sedusa (Japanese: 魅惑の女!セデューサ- Seductive Sedusa!) is the eighth episode of the PPGZ.
We meet a new character, Annie (Sakurako in the Japanese version), an owner of a local shop, who faces some insecurities while trying to win over the heart of her friend Jason (Souichirou). When she is struck by a Black Z Ray, everything changes, and the person she transforms to will be tougher than any enemies the PPGZ will ever face...
Episode Summary
Edit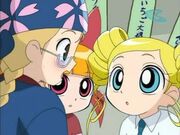 Ad blocker interference detected!
Wikia is a free-to-use site that makes money from advertising. We have a modified experience for viewers using ad blockers

Wikia is not accessible if you've made further modifications. Remove the custom ad blocker rule(s) and the page will load as expected.