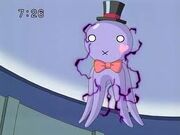 Octi is Miyako Gotokuji's favourite toy/doll.
Appearance
Edit
Octi is a purple octopus toy, and is owned by Miyako. It has a black top hat, a heart mark on its right cheek, and a red ribbon. Despise being an octopus toy, it only has 4 legs. 
Him used Octi againest the Powerpuff Girls Z by controlling it with his black particles.