Mojo and the Amoeba Boys
250px


Episode No.

13A

Original Airdate

September 23, 2006

Previous Episode

Matches with

Next Episode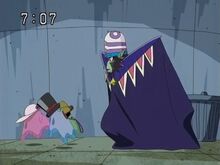 Mojo and the Amoeba Boys (Japanese: モジョに弟子入り!アメーバーボーイズ - Amoeba Boys Learn from Mojo!) is one of two segments of the thirteenth episode of The Powerpuff Girls Z.
In this episode, Mojo Jojo meets another group of familiar faces affected by Z Rays as he becomes a mentor to them in how to become big on the criminal scene at New Townsville...
Episode Summary
Edit