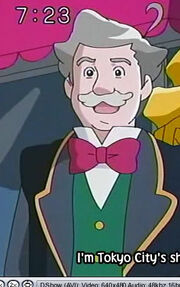 Mayor Mayer (known as Mr. Mayor in the English dub) is the mayor of New Townsville/Tokyo City, whose design is distinctly different from his American counterpart, as he is of normal height and has no monocle or top hat. While less extreme in comparison to the Mayor of Townsville, the Mayor of New Townsville is very childish and has a very short attention span. He seems to worry quite a lot when the girls are fighting, and wishes that they could cause a little less damage. The Mayor, like many of the characters in the anime, loves sweets. The Mayor also has a younger brother, who is the Principal of the school. It was through him that Miss Bellum and the Mayor were able to rearrange the classes, so that the girls would be in the same class. However, the Mayor and the Principal, don't always get along, and even the most minor of things will set off an argument, which often time leads to name calling. He also deals with his brother when the girls aren't doing well in class due to them skipping class to save the city. His secretary is Ms. Bellum.
Appearance
Edit
He has gray hair and gray mustache and wears a red bow, green vest, black jacket, gray pants and black shoes.
Section heading
Edit
Write the second section of your page here.