Fuzzy in Love

Episode No.

9B

Original Airdate

August 26, 2006

Previous Episode

Matches with

Next Episode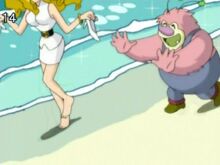 Fuzzy in Love (Japanese: 恋するファジー! - Fuzzy In Love!) is the second of two segments of the ninth episode of The Powerpuff Girls Z.
In this episode, Fuzzy, who is still attracted to Ms. Bellum, has a plan to win over her heart. But, with Fuzzy's agressive nature, the PPGZ's attempts to rescue Ms. Bellum won't be that easy...
Episode Summary
Edit
Ad blocker interference detected!
Wikia is a free-to-use site that makes money from advertising. We have a modified experience for viewers using ad blockers

Wikia is not accessible if you've made further modifications. Remove the custom ad blocker rule(s) and the page will load as expected.